Bluedot announces 2019 line-up!
22nd of Jan 2019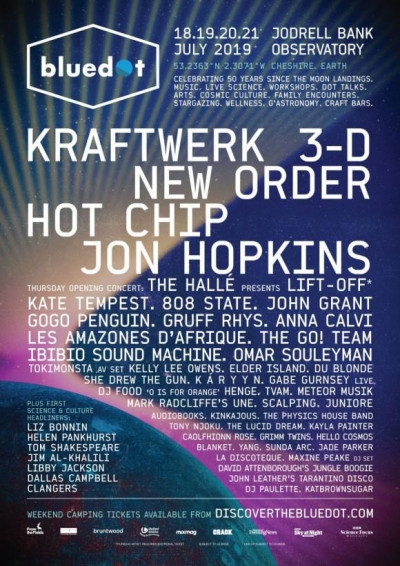 Bluedot Festival have released their cosmic 2019 line-up! Joining the already announced headliners Kraftwerk and their 3D show will be New Order, Hot Chip and Jon Hopkins. Other must-see acts include Kate Tempest, 808 State, John Grant, GoGo Penguin and many more. This spectacular line-up will be entertaining the crowds at the famous Jodrell Bank from 18th-21st July 2019.
As well as this spectacular musical line-up, Bluedot attendees can also enjoy these amazing science and culture headliners: Bonnin, Helen Pankhurst, Tom Shakespeare, Jim Al-Khalili, Libby Jackson, Dallas Campbell and Clangers 50th Anniversary. As if this isn't enough, there will also be live science experiments to join in, performance art, theatre, family-friendly workshops, live panel discussions and much, much more,
While every Bluedot festival has had a touch of magic, this year is extra special as the festival celebrates fifty years since the moon landings! This is truly one not to be missed.
As the official transport providers of Bluedot Festival, Tuned in Travel have an array of travel options available to get you to and from the festival. Coach tickets are already selling fast so be sure to book your seat soon and ensure you don't miss out! Check out our Bluedot page for more information on travel packages available.
For those of you travelling in larger groups, you have the additional option of private hire. We can arrange door to door picks ups so you don't have to worry about lugging your luggage around, just about getting the tent down!
Tuned in Travel is working together with Energy Revolution to help minimise the negative environmental impact of audience travel. When booking with us, you will be given the option to balance your miles travelled through making a donation to Energy Revolution. 100% of your donation will be invested in clean, renewable energy projects. Pretty amazing, right?
We look forward to seeing you at Bluedot 2019!