IBIZA PARTY LANDS IN MANCHESTER FOR MANCHESTER PRIDE - GLITTERBOX
3rd of Apr 2018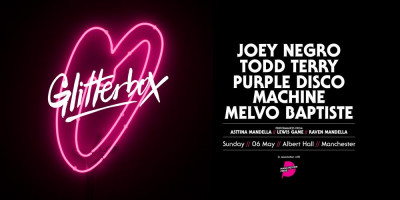 Manchester Pride, one of the leading LGBT+ charities in the UK, which aim to challenge discrimination in relation to homophobia, biphobia, and transphobia, are getting ready the Pride Festivals and we cannot wait! This year the organisers have an extra special, early year treat up their sleeve; the hosting Glitterbox as it makes its Manchester debut. This memory making event is taking place on 6th May in Albert hall.
Headlining are the music connoisseurs DJ Joey Negro & Todd Terry. Guests can also expect to see Purple Disco Machine, Melvo Baptiste, Asttina Mandella, Lewis Game and Raven Mandella.
Since its launch in 2014 Glitterbox has been a phenomenal success, making its name as the most popular club night in the legendry Ibiza Space venue. Glitterbox combines the very best of 21st century disco with glitz and glamour providing partygoers with nothing less than an evening of flamboyant headonism and electric vibes. Throw in the "music first" policy and Glitterbox as secured itself as a party not to be missed.
Tuned in Travel want to ensure you have the very best evening at Glitterbox, getting to and from the event safely and on time. We are offering a return coach between Manchester and Liverpool, tickets of which can be booked online.
If you and your group are travelling from further afield why not book one of our private hire vehicles? With multiple pick up and drop offs available, competitive rates and an simple booking system, things couldn't be easier!
For those of you who have any special requirements please contact our customer service team on customerservice@tunedintravel.com