We've balanced over 300,000 Travel Miles with Energy Revolution!
18th of Dec 2019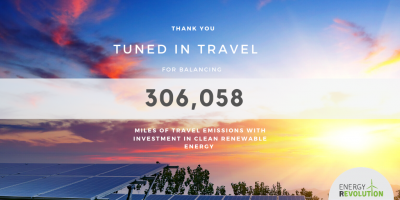 Tuned in Travel are delighted to announce that, together with
Energy Revolution
, we have successfully balanced a whopping 306,058 travel miles in 2019! This is the equivalent of a staggering 88,971 Kg CO2e!
By choosing to travel with Tuned in Travel, our fantastic customers have supported Energy Revolution in surpassing their target of balancing 10 million miles of travel, balancing an incredible 13 miles of travel emissions since 2015!


100% of the donations made to Energy Revolution are invested into renewable energy projects. Donations from 2019 will be invested in projects that install solar panel systems in UK schools. If you would like to read more on the success of Energy Revolution, please see their latest
article
.