CALLING ALL ROCK MUSIC CONNOISSEURS - ARCTANGENT 2018
1st of Mar 2018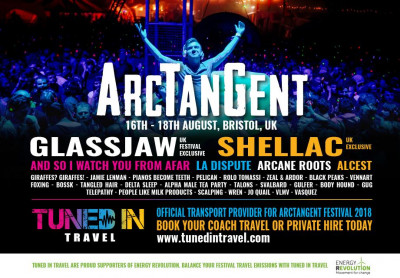 The award winning alternative rock festival, ArcTanGent is back for its sixth spectacular year. From 16th to 18th August, fans of leftfield, idiosyncratic music will be treated to over seventy different bands across four stages, with the first fifteen acts having already been announced. Taking the main stage on Thursday are ArcTanGent favourites and Math- rock connoisseurs And So I Watch You From Afar. The Northern Ireland quartet will be performing their new fifth album Endless Shimmering. Also taking the main stage is duo, Giraffes? Giraffes! who will be making their European debut with this exclusive UK performance – a killer show not to be missed! Pianos Become the Teeth, Foxing, Tangled Hair, Alpha Male Tea Party and many more will also be entertaining the crowds. Over at the silent disco Gallop will be performing their very own exclusive live set, a new twist added to the disco for 2018. Seventeen more bands are set to be announced tomorrow, including the unveiling of Friday and Saturday's headliners! We're sure you're as excited as us with ArcTanGent claiming the announcement to be to their 'faviourtitist line up announcement [they've] ever done.'
For those looking to stay at ArcTanGent for the full experience the festival offers camping options including the ever elegant glamping. Don't worry about going hungry as the festival boasts having some of the best food catering for vegetarians, vegans & gluten free.
Now that you're ready to rock it's time to plan your travel! Tuned in Travel are proud to announce being the official transport partners for ArcTanGent, taking the hassle out of travel for you. We have weekend return coach options from: Manchester, Birmingham, Glasgow, Edinbrugh, Cardiff & Newport. This is a great option for those travelling solo or in small groups.
For those travelling in larger group of twelve to fifty people who are seeking something a little more exclusive we offer private high vehicles, chauffeuring you and your group in comfort and style.
If you can't find a trip that suits your group or if you have any accessibility requirements, simply contact our friendly customer service team on: customerservice@tunedintravel.com for a free quotation.
Audience Travel accounts for a huge percentage of festivals carbon footprint, including ArcTanGent. Together with Energy Revolution, Tuned in Travel aims to balance fossil fuel travel miles, giving customers a chance to offset the pollutants generated during their travel with an investment into clean, renewable energy. 100% of donations made when you purchase your travel ticket will go to towards creating clean energy. Book and donate today to help keep the party alive in a brighter future