HOUGHTON FESTIVAL - A UTOPIC RETREAT LIKE NO OTHER
29th of Mar 2018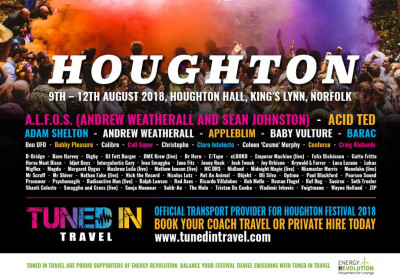 From the 9th to 12th August, Norfolk's number one electronic music and arts festival Houghton is back for a sensational second year. This sold out show promises to be even more special than its debut meaning you lucky few with tickets are in for a treat.
Unlike most festivals, Houghton has been granted a 24 hour music licence meaning artists can play back to back sets from dusk till dawn. Only the best are good enough for Houghton who boasts having 'a musical line-up to challenge, excite and inspire'. Gracing the stages will be Ricardo Villalobos, Seth Troxler, Andrew Weatherall and Sean Johnston performing their A Love From Outer Space, Ben UFO, Objekt and many more inspired electronic, techno, house and dance artists.
You'll be dancing all weekend long and what a place to do so; set in the idyllic Haughton Hall this festival is a true place of beauty. Surrounded by nature music and friendly faces, this festival is sure to be one to remember. When you're ready for a break you can hit the sack as the festival provides an array of camping options including boutique camping for those wanting a touch of luxury. There will also be food options from all across the UK including some Norfolk Speciality dishes to give you the complete country side experience.
With your Houghton tickets booked and glitter at hand the only thing left is to do book your travel. Being the exclusive Travel Partners of Houghton Festival, Tuned in Travel have all bases covered to ensure everyone can get to and from the festival at purse friendly prices.
For those travelling alone or with a small group, we are providing weekend return coach options from major cities throughout the UK, so you can travel in comfort with fellow dance lovers.
For larger groups there is also the option of private hire vehicles, available in standard, executive or luxury. This option provides you with possible door to door pick-ups at a time to suit you.
For those who are traveling by train we are offering a shuttle service departing Thursday and Friday and returing on Monday. This service will be from Kings Lynn Station taking you to and from your electric weekend adventure.
If you can't find a trip that suits your group or if you have any accessibility requirements, simply contact our customer service team at customerservice@tunedintravel.com for a free quotation.
If our competitive rates and easy booking process aren't enough, we are also doing all we can to minimise the unavoidable effect of audience travel. We are working in collaboration with Energy Revolution, a UK charity dedicated to clean, Renewable energy. Together we aim to balance fossil fuel miles travelled and give you the chance to offset the pollutants generated by your festival travel by donating to Energy Revolution. 100% of donations made when you purchase your travel ticket will go towards creating clean energy.